Word truck is a vast one. People use it to describe (discontinued) compact GMC Sonoma all the way to Alma transporter, which is 130 tone beast in charge of moving enormous antennas in Atacama desert. Naturally, between the mentioned two there is immense space filled with all kinds of stuff. Full-size pickups have grown so capable that they fulfill pretty much all their owners could desire for, leaving heavy duty versions in gray area between infinite appetites of regular buyers and actual hard-core commercial use of this trucks. Still, with everything above that, there is no any confusion. Upon entering the medium truck world, word pickup doesn't apply so much anymore and only possible use of those is purely connected to the intended purpose. GM was missing that game for some time now, but the return is inevitable.
KODIAK'S DEMISE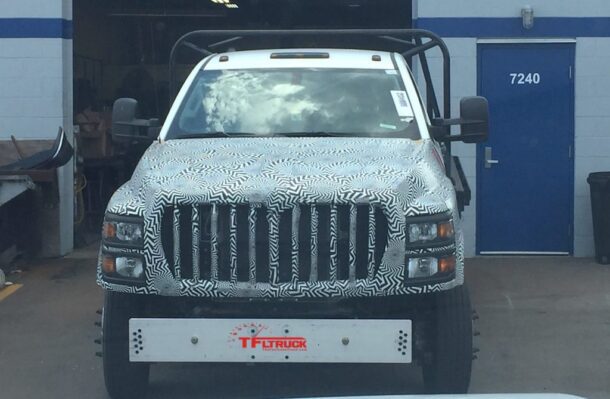 GM was offering Chevy Kodiak and GMC Topkick medium duty trucks all the way from 80's to 2009. Near the end, after lots of negotiation with potential buyers, things haven't workout in a positive manner and eventually, Detroit maker decided to shut the whole operation down, which also included the closure of two production facilities. Yet, in 2015 one of the previous potential buyers reached an agreement with GM and the joint venture was set. We are referring to Navistar International, and two years later we are here to talk about spy shots of 2019 Chevrolet Kodiak HD 4500.
MARKET'S POSITION
First of all, we are not sure whether the truck will carry Kodiak moniker, but it seems like a plausible option. It is here as a continuation of the mentioned predecessor, but it is also here as the new chapter for Navistar International after medium duty TerraStar truck was axed two years ago. The new model will slot under class 4 and 5 of medium duty trucks, spanning from 14,001-19,500 pounds, so besides 4500 version expect beefier 5500 one. It is supposed to clash with Ford's F-450 and F-550, along with Ram's 4500/5500 models.
VISUAL COOPERATION
Since the upcoming truck is not just GM's thing anymore, spy shots reveal a melting pot of design traits both from Chevy and International. With just a glimpse at it, we could see that headlights are obviously Silverado inspired, while the grille is International's deal. There are no any spy shots of the cabin but as in case of Ford and Ram, Chevy's light truck could step in as a base. Anyway, appearance is of least concern for this type of game, so let's focus on the more important matter.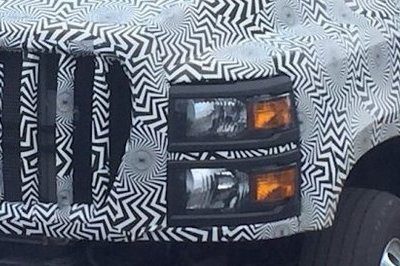 MEANS OF PROPULSION
2019 Chevrolet Kodiak HD 4500 along with 5500 model is going to return with familiar 6.6-liter Duramax turbodiesel V8, but with new figures. The mentioned mill now produces 425 hp and monstrous 910 lb-ft of torque in case of Heavy Duty Silverado, while being paired with six-speed Alison automatic transmission and we expect same here. Also note worthy is Vortec V8, which manages to deliver 360 hp and 380 lb-ft from petrol powered 6.0-liter unit, presenting a base offering in the stated light truck, probably destined to appear here also. The truck is allegedly set to debut next year in March, while for price anticipate the same area of around $38k for a start, as it corresponds to main rivals.