As American rebirth of sports car industry recently gains momentum, it engaged itself in bloody battles all over the world. The meanest form of Camaro devours Ferrari 488 GTB on the track (let alone Corvette), while Dodge's Demon boosts higher hp figure than Lambo's Aventador (and by a fat margin). So, when worthy opponents became endangered species, focus on domestic clashes escalated. But, there are several fields in which one can promote itself, which leaves Ford currently a bit stranded.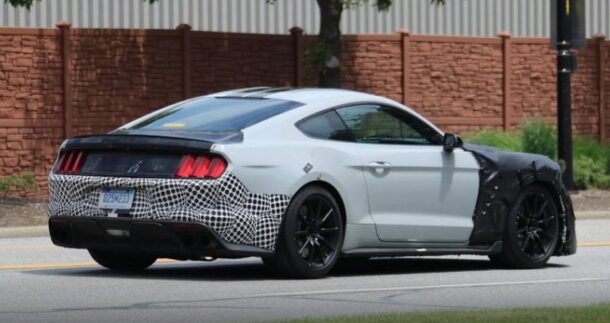 SOMETHING HAS TO CHANGE
Sure, Mustang is best selling sports car in the world, but we can be only partially amused with regular forms of these muscle cars, often filling rental-car fleets. We want to be mind blown by their totally exaggerated and unnecessarily wild iterations. That's where "blue-oval" falls short. You see, Camaro ZL1 1LE stands more planted and pulls higher lateral g than purely track oriented Mustang Shelby GT350R. And 1LE is just a package, while rear hard-core track stuff (Z/28) is yet to arrive. Dodge doesn't boast with gs and lap times, but it does with power. If we put aside 840 hp Demon, which is basically drag racing confined, Hellcat still delivers astonishing 707 hp. Camaro ZL1 falls shorter with 650 hp, while Ford currently, not drop, more collapse behind with 526 hp in its best case.
REGAINING ITS FOOTHOLD
Game of track times is lost to Camaro, Mustang knows it, and it probably isn't as much embarrassed, as some high-end sports car labels are. But the play of figures leaves on. Why? Because Shelby GT350 and GT350R are track focused stuff, leaving empty space for crème de crème of all Mustangs. Ford's Hellcat, ZL1, Nismo or GT2, was and will be GT500. Last time it blasted with 662 hp. This time? Nobody actually knows, but that Hellcat's throne does appear shaky. And there are several ways of getting there.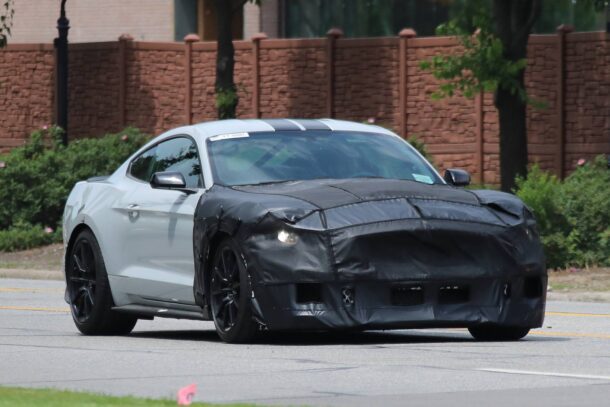 BLACK MAGIC OR WOLF'S COUSIN?
What is bothering us is uncertainty about propulsion generator. Is it going to be naturally-aspirated 5.2-liter Voodoo V8 from current Shelby models? Present 526 hp could easily rise to the stratosphere with miracles of turbocharging, surely in Ford's liking in recent times. Or it should be through the means of supercharging? It is more American way afterward, also chosen by rivals and the past is calling for it. Flat-plane crankshaft spinning faster than light travels, accompanied by chilling whine sounds of supercharger spotting bigger volume numbers than some whole engine units? Pure delicacy… Or the whole ordeal could be dedicated to non-turbo 5.0-liter Coyote V8 from current GT model, which would also need some external help in boosting current 460 hp. In that manner that word "non-turbo" could easily morph into "twin-turbo". Or it could rather be joined by stuff unassociated with detested lag? You see, pure torment… At the least manual shifter is sure stuff… Another kind? Who knows…
2019 Ford Mustang Shelby GT 500 Price
We are not sure whether that statement truly applies to anything, but in this case, it surely works. This year Shelby celebrates 50 years of existence, so maybe 2019 Ford Mustang Shelby GT 500 break the cover during it and disperse all doubts. If not, next one is certain. Price of 2019 Ford Mustang Shelby GT 500? Not below ZL1's $62k for sure. But also couldn't go much higher. And what do you get for it? Probably biggest horsepower number between "pony car" bunch, excluding "narrow-minded" Demon, and expectedly higher level of visual vicious and fearsome traits from current Shelbys. Don't believe the last one?