Mercedes has been pretty constant over its history in offer of ultimately large and luxuries coupes derived from its "Sonderklasse", which would be a German way of saying "special class". If that doesn't ring a bell, short term "S-Class" surely does. Anyway, BMW tried its luck during 90's with 8 Series, it hasn't found it, while Audi never dared. Times are changing and large coupes are again under the spotlight, Lexus just gave birth to LC, while Beemer is preparing the field for 8's resurrection. Well this time, Audi levels of bravery might be high enough for joining this top shelf game.
2019 Audi RS9 Rumors
So far we know that A8 is about to get some company in the full-size luxury segment. Audi's boss allegedly confirmed last year that Ingolstadt is working hard on sort of Tesla Model S rival or supposedly four-door coupe powered by three electric motors. Apart from this, there are plenty more rumors, including initial thoughts that Audi Prologue concept gave a preview to future large coupe derived from A8 model. Nevertheless, before anything gets certain and official, let's amuse us with fantasizing about the highest possible iteration that large coupe can experience or 2019 Audi RS9.
A8-PROLOGUE BLEND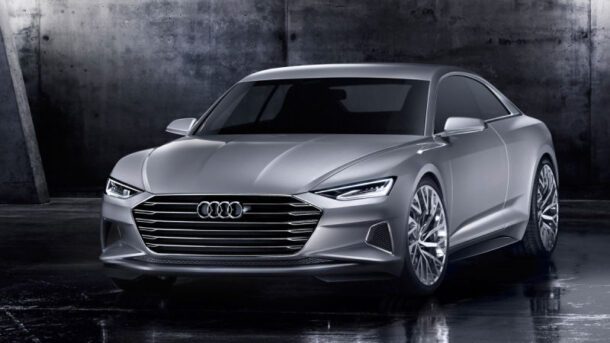 Despite brand new A8 has arrived with the much more athletic shape it could appear a bit too bulky if Audi decides to launch a coupe version of it. The same A8 was influenced by Prologue concept, while coupe's visual expression could lay between the two. Prologue's shark-like nose, slimmer headlights, more dynamic bumper intakes and less plumped tail, better suit sportier aspirations mandatory recalled with every two doors deal. Taking the fact that Audi is prone to high self-restraint with visual expression, the middle line between the two is something what we usually witness from four rings. If RS version of it ever happens, it will surely bring menacing meshed grille covered in blackness, gaping intakes, plow-like rear diffuser and enormous exhaust tips. Oh yes, and differently painted mirrors for sure.
CABIN ON LOAN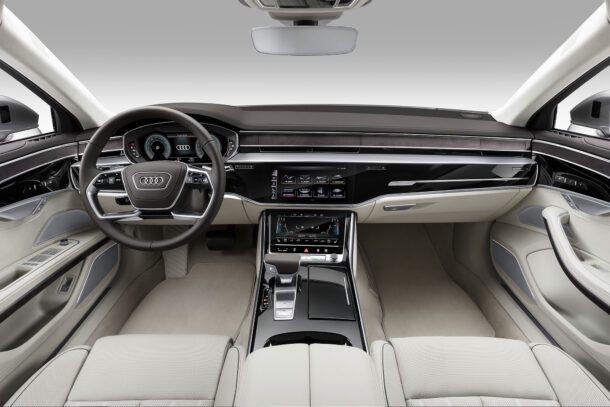 One thing is almost certain. If A9 coupe arrives it will probably borrow A8's cabin. What does that mean? It means perfectly clean and sophisticated design depicted on carefully chosen materials which are joined together with utmost precision. It also means almost lack of any buttons and total dominance of screens. One for instruments, one for infotainment, and one for the center console and if you opt like that, you could find the same number of them at the back, though with different purposes in mind. This segment puts luxury first, but if RS manages to happen it could sprinkle a dash of sportiness to the mix with bolstered seats, carbon trimming, contrast stitching and wheel sliced at the bottom.
BEATING HEART
What could possibly thing like RS9 use for moving itself? It could be twin-turbocharged 4.0-liter V8 pumping out as much as 605 hp in current RS7 with the Performance boost and outgoing S8 Plus, while in this case, power could only go north (Mer's is at 621 hp, so…). There are bigger things in brand's lineup such as naturally aspirated 5.2-liter V10 hidden under R8's hood, and also under the one of Lambo's Huracan, which delivers 610 hp in currently highest form, but we know that is not going to happen for several reasons (bloody fuel efficiency!).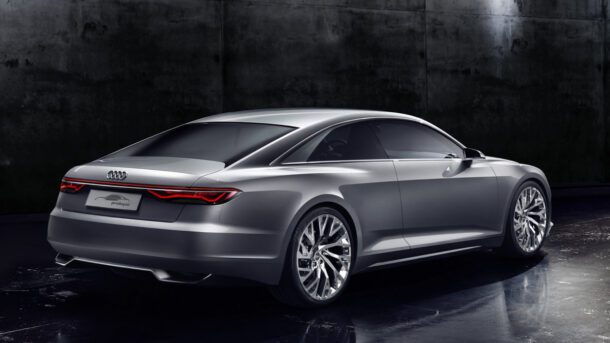 PROSPECTS OF IT
Audi is very focused at this moment on delivering a bunch of EVs during upcoming years and it was very cautious so far on what to put its famous RS badge (much more than Beemer and Merc). A8 never reached its turn to flash those famous letters on its sheet metal and in this moment that rumor about Tesla Model S rival sounds most realistic, meaning that stuff like 2019 Audi RS9 is probably unlikely to happen. We know that this is a strange world and unusual things tend to happen, just not that often with Audi…