British bragging that Range Rover was the first luxury SUV in the world is correct as much as German boasting that X6 invented coupe-SUV blend. While for Beemer we just have to turn around and see that Ssangyong did it a year earlier with Action, for the Land Rover, deeper dive into the past is needed.
LONG TIME AGO
In 1966 or four years before Range Rover was even born, Jeep decided to offer a special version of its large Wagoneer SUV. Dubbed as Super Wagoneer and propelled with powerful V8, it came with a bunch of luxurious amenities, none existent at the time with SUV monikers. From mechanical stuff like power steering, automatic transmission, and power brakes, to purely hedonistic as push-button radio, seven degrees of steering wheel tilting, air conditioning, sun roof, vinyl roof and more. Wagoneer story ended in 1991, while one of Range Rover's further evolved, depicting it today as the epitome of luxury SUV. Anyway, Jeep plans a rebirth of original "game-creator" and that story has two different paths laid down in front of it.
"HUMBLER" APPROACH
Jeep currently doesn't offer third-row SUV, as Grand Cherokee is missing that chance in mid-size segment cramped with extra sitting offers. But don't be fooled by "humbler" word of this subtitle. We are not suggesting at all, that new Wagoneer could be a replacement for mid-size Commander. No, the modest approach would be pushing new SUV into the full-size segment, still pretty alive on US soil. This implies body on frame structure borrowed from future Ram truck and usual two size offer. Wagoneer in line with Tahoe, Expedition, Yukon, Armada, and Sequoia, and Grand Wagoneer for battling with Suburban, Expedition EL, and Yukon XL.
"FULL-BLOWN" APPROACH
Now, let's see another way in which this story could evolve. Jeep could try to play on Wagoneer's glorious roots and point it directly to the luxury realm of the same segment. Considerably more lavish than with the previous approach, in this case, it could even use Grand Cherokee's monocoque chassis to properly battle Ranger Rover's and Mercedes GLS's polished road manners. Still, use of ladder frame here is not an exception at all, as it was chosen by Caddy, Lincoln, Lexus, and Infiniti or all else. In this scenario 2019 Jeep Grand Wagoneer would have to deal with Escalade ESV and Navigator L. Jeep is not a premium label per se, so it should be interesting seeing how it would manage surrounded by all those posh labels.
2019 Jeep Grand Wagoneer Price
Or Jeep could go its own way. You see, Grand Cherokee starts as regular mid-sizer with price, but ends 10-15 grand above the usual competition. It kind of flirts with luxury labels, not openly, but some rising above its origins is certain. With hints of upscaled, it nails alluring middle between two worlds. Maybe that's the way for the new Wagoneer. Allegedly starting price could be $60k, meaning that undercutting of all possible posh rivals is in plans. Some by five grand others by thirty. So, in this case, Jeep would go premium officially, but it would restrain itself from going cheeky.
NEW JEEP GRAND WAGONEER SPY PHOTOS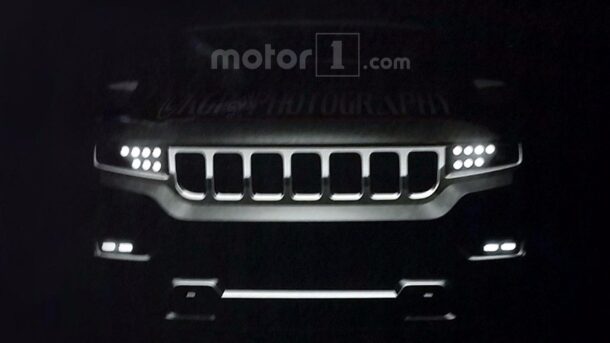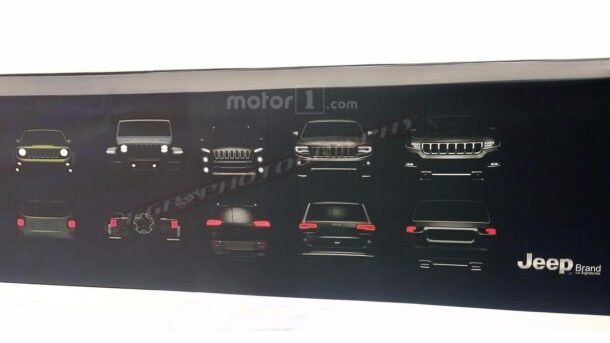 Photos leaked of 2019 Jeep Grand Wagoneer and we have a glimpse of its appearance. Things are simple but very masculine. The large and boxy design approach is flavored with double exhaust tips and recurring "seven" theme. Seven grille's slots, Jeep's usual, but also visually effective seven LED dots, front and back. Even fog lights follow the suit. We should expect engine lineup borrowed from smaller sibling primarily V6 and V8 units. We wouldn't mind if that includes Track Hawk's 6.2-liter supercharged V8. Finally, new Wagoneer could break cover next year, which we eagerly anticipate in order to dissipate all this mystery surrounding it.