We could bet that you all already know that Beemer intends to resurrect famous 8 Series. And that is fine and actually more than fine for several reasons. First of all 6 Series in all shapes is slowly floating toward history books, main culprit for that could be unpopular pricing strategy (read rudely expensive), and it would seem unfair for luxury maker as one in Munich to lack any sort of grandiose two-door offer in its lineup (apart from that hybrid thingy). Furthermore, S-Class Coupe, or CL before, has been "fooling around" for quite a time without any foreign intrusions into the segment. Lexus just joined the game with LC, but now Stuttgart thinks about euthanizing its coupe behemoth (by certain rumors), and in the mist of all that commotion 2018 BMW 8 Series will arrive.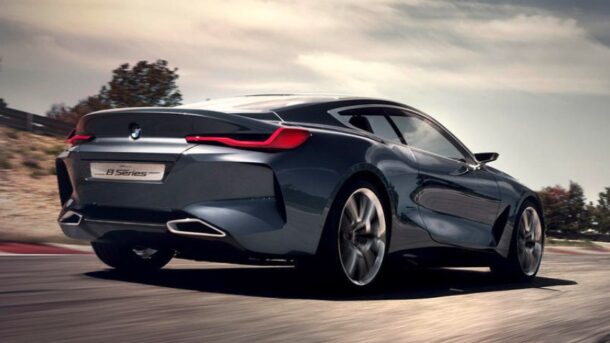 WE ALMOST KNOW ITS GUISE
Giving from how many sources we can draw the conclusion about new 8 Series shape and style, we could almost be certain with our design presumptions. On the first place we have gorgeous 8 Series concept, previewing some of the future's design pattern for the whole brand, and a second place we have spy shots. Mix those two and vision becomes clearer. Sadly, ultra-thin concept's headlights and aggressive and sinister fascia were significantly buttoned down on test mules, along with gorgeous "Aston-esque" tail lights. Also, large and undulating dynamic creases on the side doors are missing and concept's breathtaking tail is more generic. And finally, Beemer revealed M8 GTE race car which completely shatters the whole mystery from light's appearance. Front ones are similar to the ones on new X3 (which is not so commendable), while rear ones are almost same as those seen on an unmasked X4's replacement.
2018 BMW 8 SERIES INTERIOR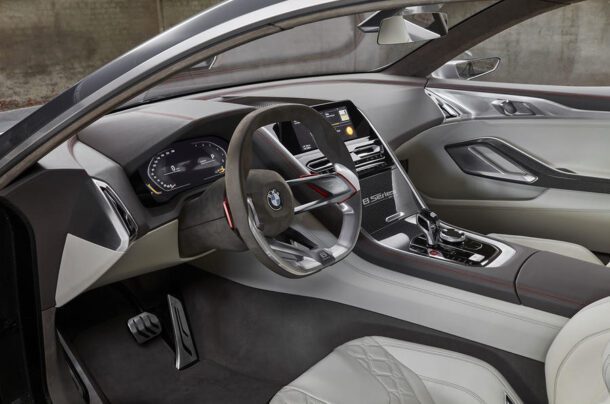 Even spy shot of the future interior exist. Although it is messy, due to the cloth coverage of the surfaces, it shows that outline set by the concept is followed. The sleek, clean and elegant design seems to be on order, definitely not overburdened with buttons. If we add to that BMW's expectational build quality and recent very wise choice of materials, we have an opportunity for some refined sophistication as future cabin goes. Feel free also to expect some gimmick novelties as upgraded Gesture Control and possibly something brand new from Munich.
2018 BMW 8 SERIES SPECS
8 Series will certainly use same CLAR platform as 7 Series does, which significantly lean on carbon-fiber use. The predecessor was powered solely by eight and twelve-cylinder engine, while above mentioned present rivals don't drop below six cylinders, so neither will Beemer presumably. It is almost certain that 4.4-liter twin-turbo V8 will appear, turbocharged 3.0-liter L6 is a possibility, while just a notion about mighty 6.6-liter twin-turbo V12 from M760i model being employed for M purposes, sends shimmers down our spine, unless it chooses to opt for mentioned V8 in its highest output forms. Giving the GT nature of the stuff, only ZF's 8-speed automatic seems suitable, as even newest M5 ditched double-clutch setup in favor of it. The hybrid model is also a viable possibility, although brand's latest powertrain scheme favors four-cylinder gas guzzler, so we'll see. For the end, AWD should populate option's list and it might come as mandatory with M lettering.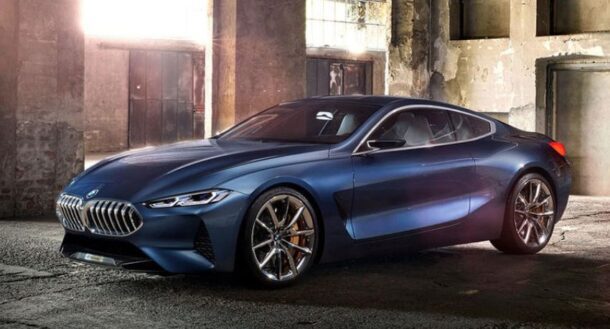 2018 BMW 8 SERIES RELEASE DATE AND PRICE
2018 BMW 8 Series could arrive somewhere during next year. The topless version should also follow in the future and even thoughts about four-door model don't seem strange. 6 Series comes in Gran Coupe form and Mercedes is preparing to launch such a move in similar echelon where new Beemer should reside. As for the price, S-Class Coupe starts at $120k, Lexus's LC is more modest with $93k, while you should probably expect 8 Series to settle somewhere in between.