Subcompact SUV segment is booming from both sides of the pond. That also includes the US, which was always traditionally hesitant toward small things on four wheels, but recent trend tends to override that. Despite the whole segment pushes annually half of the figures which just Ford's F-Series achieve, the same echelon was fastest growing non-premium SUV segment for last four years. Kia has been in this shuffle for a while, and its funky-boxy specimen posts class-leading sales figures. Still, the same Soul struggles with extremely modest numbers in Europe, which led us to 2018 Kia Stonic, which is trying to leave different statements in the same type of the game.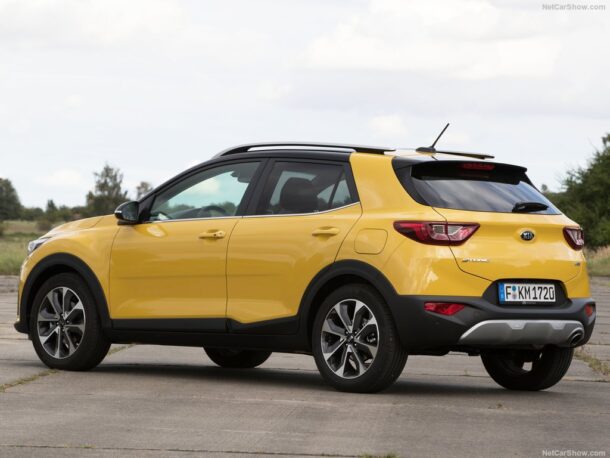 EVERYTHING BUT BOXY
It seems that old continent inhabitants aren't so excited about small and extremely angular stuff. Why have they failed to recognize groovy and adorable side of such a setup? We don't know, and Kia probably doesn't care since it already enforced contrasting approach. Stonic is certainly more usual in its appearance than Soul, but it tries to savor the deal with various flavors. With that in mind, we have a touch of sharpness for fascia, a dose of masculinity for the hood, infusion of curvaceousness for side and hips, and finally a breath of trendiness with skid plates, contrasting roof, and unique last pillar. Still, everything mentioned comes in strictly regulated dosage, and it doesn't even nearly produce levels of hipness found in Juke or CH-R, leaving those to be better tackled by Soul.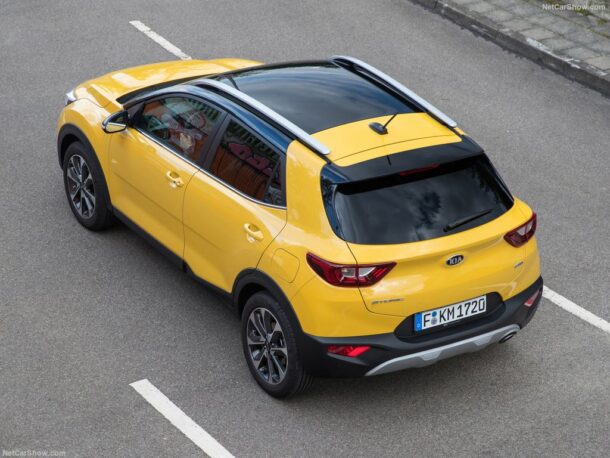 LESS CURVATURE, MORE BRISKNESS
Even on the inside two subcompact siblings doesn't share similar design language. Soul features round shapes and bulbous dash while Stonic is all about sharpness, in sort of a Germanic way. We are talking here about the same deal as in new Rio with just slight alterations and Europeans tend to love that approach judging by VW sales figures. Kia promises 20 bicolor variations for exterior in relation body-roof and even three choices of mirrors coating, but don't expect that kind of paint lunacy on the inside. Surely you could spice things up with flaring painted plastic accents here and there, but sort of serious posture remains. Tech is well covered by 7-inch infotainment screen supportive of Apple CarPlay and Android Auto, build quality is decent but not mesmerizing and available space corresponds to the one from Rio, which is fine, but not great.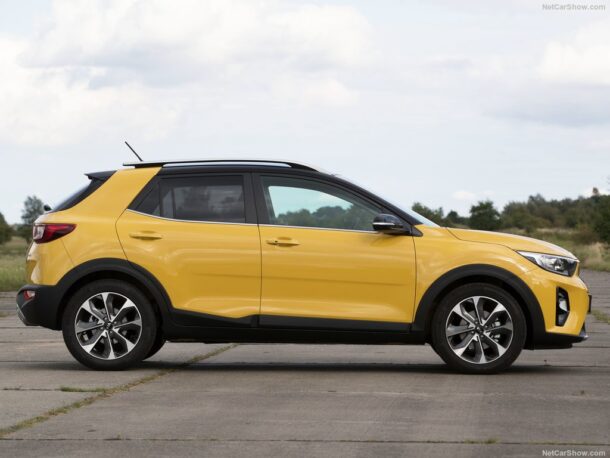 FRUGAL AND SLOWER
Stonic borrowed some engines from Rio's lineup, so it comes with naturally aspirated 1.2-liter rated at 83 hp and 1.4-liter delivering 91 hp. It also receives new turbocharged 1.0-liter boosting 120 hp, along with 1.6-liter turbodiesel producing 109 hp while gently sipping fuel with possible 67 mpg (UK measure or 55 mpg US one). The last mill misses Rio's engine bay for now. All units are paired with manual transmission and AWD is not offered, at least yet. So, Stonic's top 120 hp figure seats below 130 hp in weakest Soul iteration. It is better than not to mention that Soul goes all the way to 201 hp with Turbo model. Sorry, Stonic, we did mention it, so better do something about it in the future.
2018 Kia Stonic Release Date and Price
2018 Kia Stonic is now "Europe only" thing. Coming to the US is still uncertainty, but Soul will remain one of the top choices in the segment there and for more conventional design and unconventional powertrain you even have Niro, dancing in the same size bracket. That left free space for Stonic to adapt itself to the old continent's taste and as result, it arrives resembling stuff like VW's T-Roc. So, if Soul's approach failed to ignite lust in buyers from that side of the globe, dissimilar one from Stonic might as well accomplish so. If it happens that you are one of those moved by it, prepare around £16k in the UK ($21.6k) for a start and wait a bit as it starts to fill dealer's lots in upcoming months.