As Honda's luxury division ditches those awkward beaks lately, improving pleasantness effect of its products, we are here to examine probably the most mature and best thought out product of them all. Acura maybe lags in sales compared to Germans or Lexus, but it still floats above Infiniti and Lincoln, shoulder to shoulder with Cadillac. Its luxury mid-size SUV is the main culprit for the acceptable figures and now 2018 Acura MDX arrives with some additional updates.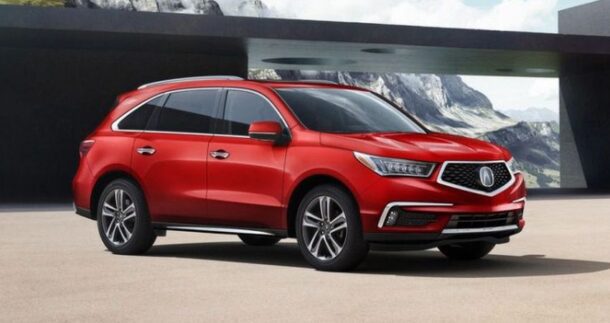 WHAT'S NEW?
Not much, as last year we had a big mid-life overhaul which did a great job. For 2018 model year, we have two new colors and they are both red, Basque Red and San Marino Red, and they are attached to different trims, alleviating you from the trouble of determining perfect shade for you. Infotainment system gets an upgrade too, with a new 7-inch screen, which reacts to your inputs 30% faster, while Apple CarPlay and Android Auto arrived as mandatory tech gimmick for every latest automotive product. Rest remains the same and keep reading if you want to find out what does that imply.
IT WAS ALL ABOUT THE GRILLE
Let's say not so pleasant grille design plagued Acura products for years, messing up generals feelings about the otherwise decently looking fascias. Japanese has finally decided to ditch questionable styling approach and MDX was first to arrive last year with brand new grille featuring space travel/diamond pattern theme. Whatever it reminds you of, it doesn't matter, as it looks good and it complements beautiful Jewel Eye LED headlights, not stealing your gaze from them as it was before. MDX has a sort of minivan like approach with the overall shape, but the whole deal is executed in a proper manner keeping things on the beauty side. Plus, compared to some better-sculptured rivals, notorious shape resemblance pay high dividends in cargo and third-row area. MDX has some hidden allure, not bright enough to catch your gaze when in the crowd, but when you finally spot it, it manages to maintain your interest.
2018 Acura MDX Interior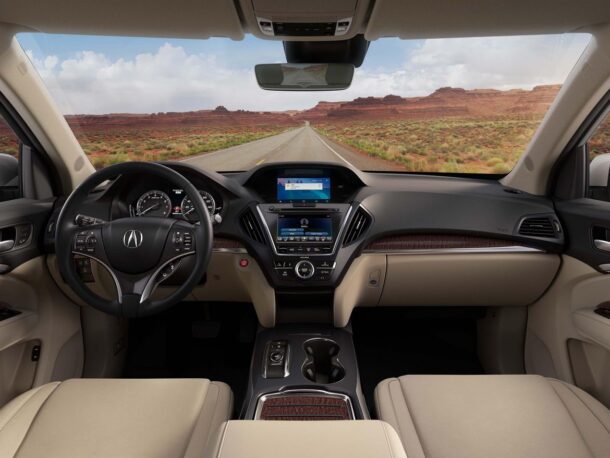 On the inside, as we just noted, MDX boost spacious cabin. Its figures top easily those of more expensive rivals such as X5, GLE, Range Rover Sport, but they manage to trail behind those from Q7, XC90, and QX60, putting it somewhere in the sweet middle. Similar goes for the rest. Build quality and materials are decent but not on Audi, Volvo or Merc levels and there is that sense of "Hondiness" that this luxury marque just can't shake off completely. Design of the whole deal also fails to captivate. As we said before infotainment system is improved, but dual-screen setup remains and nobody yet managed to make those appear intuitive and pleasant to use. The morphing of usual gear lever to a bunch of buttons located on lower console, that happened over the years, also doesn't win highest ergonomic prizes.
ONE AGILE BUS
There are two engine options with every MDX. Naturally aspirated 3.5-liter V6 boosting 290 hp and 267 lb-ft of torque and hybrid option utilizing 3.0-liter V6 and no less than three electric motors with total power output of 321 hp and 289 lb-ft. Hybrid is paired with a 7-speed dual clutch, while regular version settles with very smooth but unwilling to downshift 9-speed automatic. Petrol model takes class competitive 6 seconds to 60 mph, while hybrid, benefiting from the extra power which manages to nullify added weight, pushes MDX to 60 mph in brisk 5.7 seconds. Hybrid also brings amazing 27 combined mpg figures of fuel efficiency, while other powertrain settles with more mundane 21 mpg. All fine so far, but rest is a pure blast.
MDX is amazing to drive! Despite its size, it feels nimble, precise and agile especially if you avoid humble FWD and go for very clever SH-AWD system constantly engaged in torque vectoring. Hybrid also dubbed with Sports moniker additionally reflects the satisfaction with the driving pleasure, as electric motors located next to the rear wheels vary the torque allocated to them once in the corners, beautifully rotating the vehicle. And yes, that's roughly the same system as one found in NSX.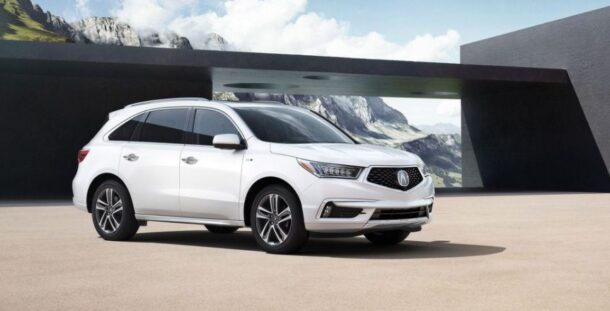 2018 Acura MDX Price
So, 2018 Acura MDX is both average and great product depending on the area where you are focused the most. Cabin design, refinement, and troubling infotainment system make it average at best, while the available hybrid system and dynamic abilities, in any case, makes it very compelling offer. Plus, the starting price of $44,200 is segmented's low one and equipment deals are generous. At the end, adaptive cruise control with automated emergency braking and lane-keeping assist offered as standard might continue to sway decent numbers of buyers from more refined competition.