Veloster was not just one more compact car, half-way coupe, three-door hatch or whatever you classify it, a vehicle for the Hyundai. It was a sign that Korean maker grew that large and successful that it can start "playing around". Or "experimenting" sounds more appropriate. Besides funky styling, a weird-ish blend of hatch-coupe attributes, though that last one comes as no surprise for Europe which has seen a decent offer of these more stylistic two-door hatch variations, it also featured only one rear door with hidden handle. That lack of another back door, foolish or not, became its signature move. It has been six years since its debut, so let's see what do we have about the replacement or 2019 Hyundai Veloster.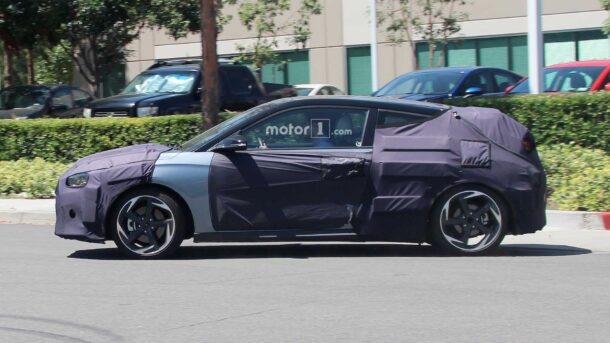 STILL WITHOUT THE DOOR
Despite that directly collides with practicality, new Veloster keeps the famous door layout. Also, it seems that berserk styling gets another chapter. Judging by spy shots rear end is still uplifted with taillights positioned pretty high and we still have centrally positioned exhaust. Backlights as well headlights seem subjected to the rigorous diet as they appear significantly slimmer. Ones on fascia also seem to resemble those on latest i30 or Elantra GT, but not completely. The new version of the cascade grille is also natural to expect. There will also be an angry N version, which you will easily recognize by aggressive bumpers, alluring big alloys, rear wing and wrathful diffuser housing huge double exhaust tips, which are all already visible from the masked test mules.
2019 Hyundai Veloster Interior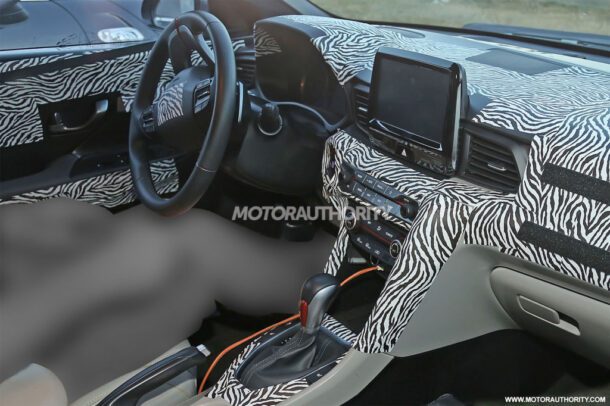 New Veloster, new cabin. Which is good as spy shots reveal one that will probably seem upscale compared to the current one. Dash is now driver-oriented, infotainment screen is not integrated, but rather perched now, and improvements on the refinement level should mimic those found in new Elantra GT. Last said will comes as nice for new Hyundai model, but not that great when compared to the certain competition. The new generation also comes with a couple of extra inches to the wheelbase which is sure to be cherished as current one slide under the word cramped.
Hyundai Veloster 2019 Engine
There is a possibility that new Veloster will ditch current base naturally aspirated 1.6-liter L4 and start in future with the same mill, but joined by turbocharger which results in nice 201 hp, currently offered in Turbo model. Above that will obviously seat N version, which could boost 246 hp or 271 hp, thanks to turbocharged 2.0-liter L4, as those are the figures of recently revealed i30N. So, base version could be as hot as current Turbo one, just because even hotter iteration is destined to come. Hopefully, besides all that extra power, the new generation might also bring some elevated driving pleasure as current model fails to amuse in that field.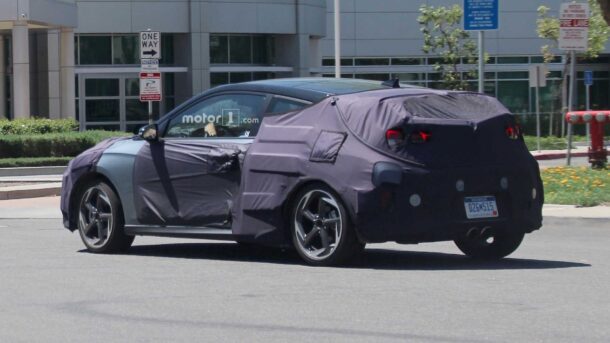 2019 Hyundai Veloster Price
So, 2019 Hyundai Veloster continues to play on the wild card of funkiness and if you dig that particular deal, it is definitely worth of waiting for, primarily due to the lack of similar styling exhibitions in the segment. We would even gladly compare it to the stuff like Juke or CH-R, at least visually, since they certainly inhabitant different planes. As for N version? It will hardly shake Si, GTI, WRX and ST foundations, but it will surely wipe the floor with Nismo, which is again not that hard to do. Expect N model to be priced around $25k, while regular version might retain current $19k starting tag.