Sure, it is delightful to purchase 300-plus horsepower hot hatch and have plenty of fun with it. But they do come with hefty price tag of over $35k, which could net you decently equipped full-size sedan or simply two specimens of the same hatch in a base edition. But when we add into the play Si, ST, WRX or GTI lettering, all working hard to bring some of the full-blooded flavors from superior monikers, things turn very reasonably. They are all priced as better equipped hatches and there is hardly anybody capable of denying their sensibleness. Now, let's pay attention to the freshest kid on the block or 2018 Honda Civic Si.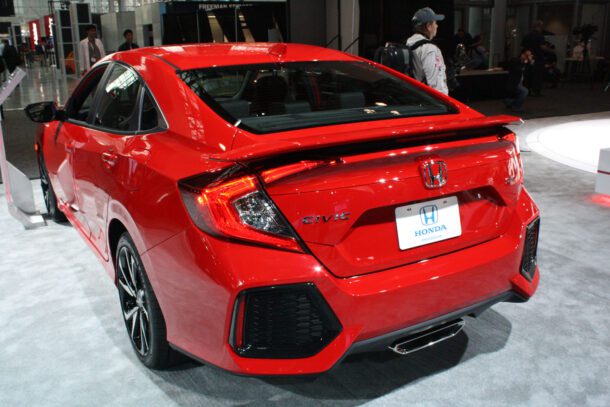 SI'S FALL FROM THRONE
For years the best possible Civic you can get in the US wore the Si badge. Honda was reluctant to bring R label to this side of the pond and recently introduced Type R is the first of its kind. Its arrival seems to erode significance of Si letters, but that is not quite true as those two are apart by vast power and pricing difference, hindering any thought of cross shopping. Plus, lesser sibling comes as coupe or sedan, while bestial one arrives solely as the hatch.
BERSERK OR SUBDUED?
While thinking about its visual appearance above written question comes to mind, and answering it doesn't come as easy. Compared to Elantra Sport or Golf GTI it looks wild and that rear wing in case of the coupe is unmatched by any rival. Yet, standing next to Type R it seems meek and domesticated. But do note that R's visual lunacy is not easily digested by many, even possibly making Si's approach more lovable to the majority. Blacked out grille, special alloys, aggressive bumpers with honeycomb meshing, that mentioned wing and huge oval exhaust pipe are plenty of sportiness for one Civic from the mature view.
CHOICE IS OVERRATED
Honda decided how the Si's cabin should look like and you can't-do anything about it. It comes with black cloth seats, though beautifully sculptured ones decorated with red stitching. You'd also get 7-inch infotainment screen supportive of Apple CarPlay and Android Auto, two SUB ports and 450-watt sound system with a subwoofer, among some other things. Do you want leather, beige seats or navigation? No can do. The only option is summer tires and everything comes already packaged as it is. Fortunately, mentioned seats and stitching, red infested digital instrument cluster and carbon-fiber inserts on the dash produce pleasing feelings about it.
2018 CIVIC SI SPECS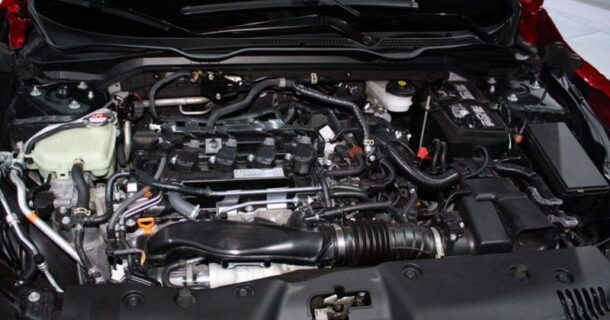 As for engines? No choice also, but at least that comes as natural in that department with this type of badge. Turbocharged 1.5-liter L4 produces 205 hp and 192 lb-ft of torque, which is then sent through the 6-speed manual to the front wheels thankfully joined by LSD. 0-60 takes 6.3 seconds, same as 252 hp Focus ST, better than 201 hp Elantra Sport, but lagging behind 220 hp Golf GTI and obviously 268 hp WRX. Still, fuel economy absolutely reigns over the competition with 32 mpg combined, which comes as whole 9 mpg over figure which thirstiest WRX offers or 4 mpg over second-best GTI. And that's not it. Civic Si is capable of pulling 0.97 lateral g. Almost one g! It doesn't come anymore with naturally aspirated high revving mill and you'll feel that turbo lag for sure, but this thing is a blast to drive. Quick, precise and actually communicative steering, meticulously tuned adaptive dampers, lively chassis, and brisk shifter, make Si, short of Sport Injected, fully worthy of its name.
2018 HONDA CIVIC SI RELEASE DATE AND PRICE
2018 Honda Civic Si is already available in the US since the spring of this year. Pricing strategy couldn't be simpler and for $24,775 you get coupe or sedan and you can only splash additional 200 bucks on summer tires and that's it. That undercuts everything including Sentra Nismo, leaving only Elantra Sport as cheaper, adding the final touch to this Honda's greatness.