Despite the first thought when full-size luxury SUV segment comes to mind is Range Rover, this is far from single car's class. In the US, you can browse between actual SUVs like Navigator, Escalade, QX80, LX or G-Class, while if you are in for crossover game, besides mentioned icon, you have GLS. Europe lacks the American and Japanese offer, leaving British posh box collecting all the cream for years. Mercedes was first, and only one, to interfere therewith mentioned GLS (GL at the time) and for some unknown reason nor Audi or BMW followed. Finally. that is changing as 2018 BMW X7 is inevitably coming our way.
BMW X7 EXTERIOR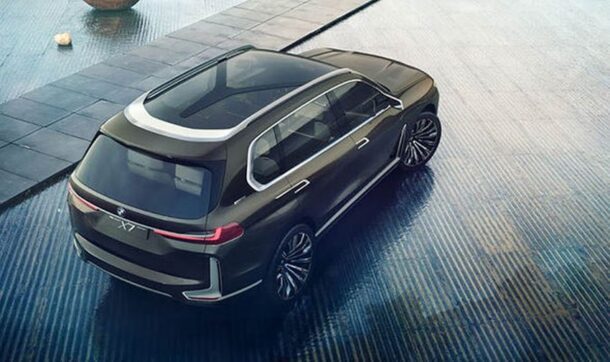 If we have a desire of predicting the future appearance of upcoming X7 we have plenty to lean on. We have available spy shots and just revealed Concept X7 performance offers a clear glimpse at the subsequent. Spy photos reveal boxier shape compared to X5, while concept introduces some styling novelties. So, headlights are destined to be very slim, yet according to test mules not as much as the ones on the concept. Smaller lights also less impede with new grille's big desire to grow in size and determination to dominate the whole fascia. Concept's front could not resist resemblance to beaver's nose (read teeth), but fortunately, production version evidently plans to scale that down. Also, concept's large side intakes appear to exist on the prototype, although in a bit more modest shape and dimensions, and those silver colored bumper and side accents are unsure for production. Design of concept's taillights appear similar to ones seen from spy shots of upcoming new X4, so we would put our money there as far as production model goes.
2018 BMW X7 INTERIOR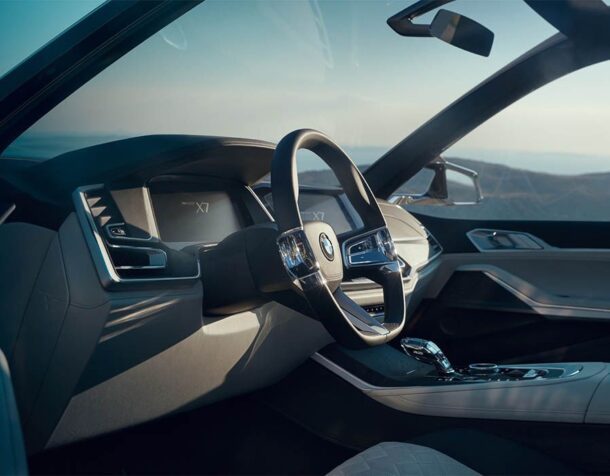 BMW is getting very good with luxury lately and X7 should come as a peak of it. And main words, in this case, are "glass all around" if the things are judged by the concept. Glass covering digital instrument screen, large infotainment one and big two at the back, glass instead of the roof and finally Swarovski glass accents. Jokes aside, if we omit Austrian jeweler touches and curtail the magnitude of that roof, rest could actually stick. Overall, the cabin is visually very clean and unadulterated, this elegant, leaving us clear about in which direction Beemer's interior design department goes.
BMW X7 SPECS
It is a bit early to discuss the specs as no official data is available and neither there are many rumors about it. Though one thing is clear. Upcoming X7 will use CLAR platform that debuted with latest 7 Series and we might add that it will probably use mentioned sedan's engines. That could include turbocharged 3.0-liter L6 and twin-turbo 4.4-liter V8. But, why not also 6.6-liter twin-turbo V12? That could leave some homework for rivals, for sure. Concept arrived with a hybrid powertrain, although not specified one, and production versions will surely include one. It will probably be four-cylinder + AC motor combo present in current brand's lineup unless Munich develops something different in the meantime.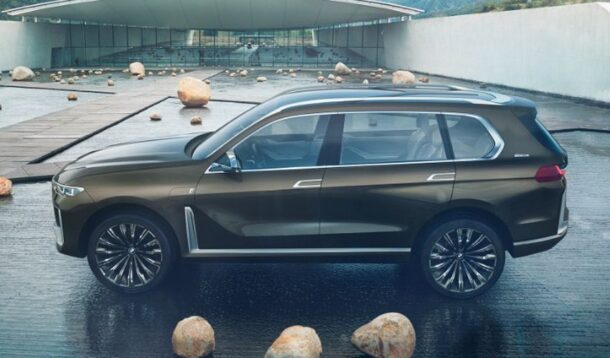 BMW X7 2018 PRICE
Anticipate 2018 BMW X7 to arrive during next year with price probably aligned with Merc's one. That indicates around $70k area, which is also populated by Escalade, and above Navigator and Infiniti's QX80. Range Rover priced his heritage and poshness substantially higher, while Lexus's LX went furthest with berserk $91k tag. We wouldn't dare to mention G-Class pricing strategy… Anyway, we definitely think that buyers of this behemoths would not mind extended offer of well-known and meticulous German build quality and sophisticated engineering