At the very end of 2015 debuted new generation of Civic. A tenth one. Last year it outsold Corolla in the US, taking a sales throne in its segment, although it wasn't a first time for sure. That should mean that it is good then? Not good, great! And here are the reasons why 2018 Honda Civic should stand high on your compact purchase list.
BOLD STYLING
Honda went completely berserk with this Civic and this time the US was included. While previous generations of North American Civic model were visual as dull as it can get, two last Euro hatches were completely nuts in a certain futuristic way. This time it's peculiar for all and high tech, the frantic approach is on the menu. Coupe, sedan or hatch, all are equally weird looking, but bursting with the character at the same time, as its presence is announced loudly wherever it is. Although we should note that its stylistic path better suits younger (a bit immature) tastes, so you got Golf or Mazda 3 to turn to if it doesn't work for you.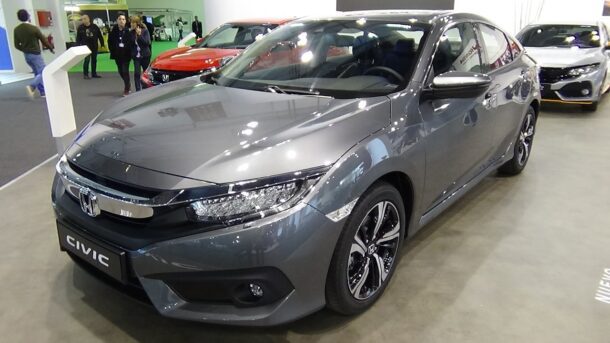 HONDA CIVIC 2018 INTERIOR
At first glance, cabin might appear as a visual mess. All these sharp looking shapes and angular surfaces colliding and battling with each other. At second glance? Not so much anymore. The whole deal has some sporty vibe and seating position supplements that. You are sitting low. Very low! Fit and finish and used materials are decent but below Mazda or VW levels. Space is abundant, yet it trails Corollas. Still, view Civic as a part of the better bunch in its segment when we come to interiors. But, don't count HondaLink there. The 7-inch screen is stylishly shaped, quick to inputs, yet totally confusing and completely knob lacking. Fortunately, just use available Apple CarPlay or Android Auto and you'll miss that confusing part, but there is nothing to alleviate a sorrow from operating touch sensitive volume slider.
ENGINE FOR ALL
You don't fancy sudden burst of power, while you do fancy revving high? No problem, Civic has something for you. Naturally aspirated 2.0-liter L4 rated at 158 hp and 138 lb-ft of torque. Peak horsepower arrives at high 6500 rpm, while for that torque climax you'll have to climb to 4200 rpm. What's that? You prefer more easily accessible torque, a bit more power and you are fuel minded? How about 1.5-liter turbocharged direct injected (former is port injected) L4 boosting 174 hp (180 hp in some versions) and 177 lb-ft from as low as 1900 rpm. 0-60 mph comes in 7 seconds or more than a second faster from base engine. Fuel efficiency is in the highest segment's echelons with 33 mpg combined for turbo mill and around one mpg less for the non-turbo unit.
A JOY TO DRIVE
On the go, this Honda just offers all. Smooth and comfortable, yet when curve arrives incredibly poised. Steering is light but surgically precise and instant. Even slight movements affect the car as it is half lighter than it actually is. Grip? How does 0.93g sound in Sports trim with all season tires? Yes, all season! And Sport is surely not even Si, let alone Type R. Further more, you can't go wrong with shifters. Manual is quick, precise, and stick is beautifully short, while usually dreadful CVT, here comes as one of the best. And it goes with paddle shifters in higher trims.
2018 HONDA CIVIC RELEASE DATE AND PRICE
2018 Honda Civic hasn't brought anything new, it is available out there, and the price hasn't changed. It starts at $19.6k and stops in front of the realm of $30k. If you are occupied with your well being, safety package comes at expense of one grand bringing stuff like adaptive cruise control with automated braking, lane-departure warning, and lane-keeping assist. Blind spot monitor doesn't exist, but unique Lane Watch system does, using mirror mounted camera to display picture on the infotainment screen.