After quite a few rumors about the new Accord, the car was finally showcased a month ago in all of its glory. The 2018 Honda Accord is an all-new model based on Honda's modular platform. Even though the car still shares some design cues with its predecessor, it doesn't really have much in common with it. The new model is larger, more striking to look at as well as considerably more efficient.
2018 Honda Accord Price
Even though so far its price hasn't been released, it seems the base model will start at roughly $23,500. The higher-end versions are expected to start at well over $30,000 while some of its trim levels could even breach $40,000 which would make it one of the more expensive cars in its class.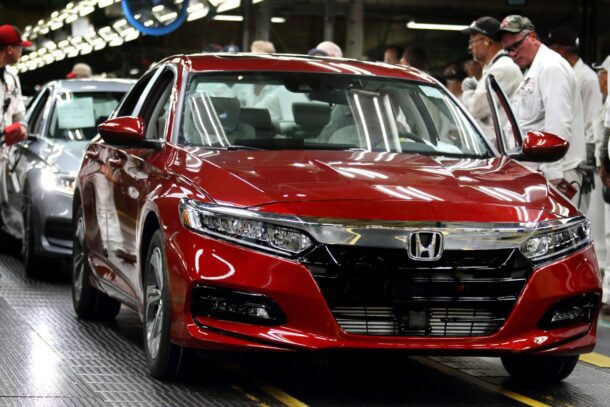 2018 Honda Accord Specs
As we said, the new model is based on an entirely new platform developed by Honda for their future cars. This is in fact quite similar to the platform of the new Civic. In its construction, Honda used more than 25% more ultra-high strength steel than before as well as up to 54% high-strength steel. The end result is a car that is with up to 176 pounds lighter than its predecessor while being considerably stiffer. This allows the new Accord to have better NVH levels as well as be safer. Also, while not official just yet, the car is also expected to be more efficient as well as considerably better to drive. The latter is mostly thanks to the car's aluminum suspension components which reduce unsprung weight and make the car more eager to respond to the driver's input.
New Accord 2018 Interior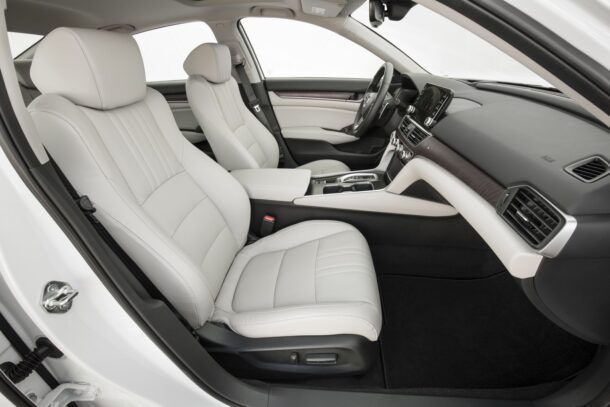 One of the more impressive parts of the 2018 Honda Accord has to be its cabin. Instead of going for an evolutionary design Honda decided to scrap the idea and offer a brand new interior that is far better than before. Not only is the design more minimalist and classier-looking than before but the materials seem to be of a much better quality as well. There is a large center infotainment screen offering actual physical buttons that make it so much easier to use while driving. The driving position is lower as well while the new digital instrument cluster gives the driver all the information he needs. The rear seats also get more room than before despite the car's design.
Exterior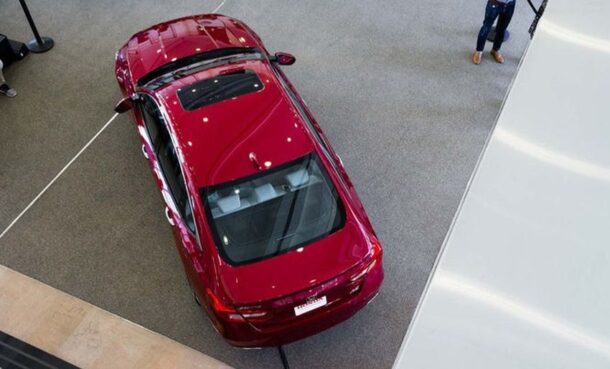 Instead of taking design cues from the older models, the new 2018 Honda Accord looks like a brand new car. The shape of it is considerably more aggressive than before with a really aggressive raked roof, a large front grille that spans the entire height of the bumper as well as a new set of headlights that seem taken straight from an Acura. In fact, we could easily say that the new Accord looks a lot like a fastback which is a very bold move by Honda.
Honda Accord 2018 Engine
There are two new engines powering the new Accord. The base model comes equipped with a 1.5-liter turbocharged-four which is capable of delivering up to 192 horsepower and 192 lb-ft of torque. The option comes in the form of a 2.0-liter turbo-four which puts down 252 horsepower and 273 lb-ft of torque. Even though the latter is actually less powerful than the V6 it replaces, it does offer considerably more torque from far lower down the rev-range. Thanks to that it should feel faster and better to drive than its predecessor. Both of them feature variable valve-timing and quick-spool turbochargers so they should be quite a bit more efficient than before. A 6-speed manual is available on the Sports to trim level only while a CVT comes as standard with the 1.5-liter engine. The 2.0, on the other hand, gets a far better 10-speed automatic which we do hope Honda will offer with the smaller engine as well.