So, Honda has just revealed new Accord. And it did that half a year after Toyota presented brand new Camry. Camry that made the radical turn with new design chapter. But Accord went even further in this newfound game of radicalization. It's not just that it is shaped as it was never shaped before, it turned upside down whole engine lineup. Ditched is old school naturally aspirated approach and instead of L4 and V6, two new four-cylinders arrived blessed with miracles of turbocharging. And it added 10-speed automatic to the previous mix of manual and CVT shifters. So, as everything is so new with "new" Accord, does that make a sort of "carryover" hybrid model a bothersome deal?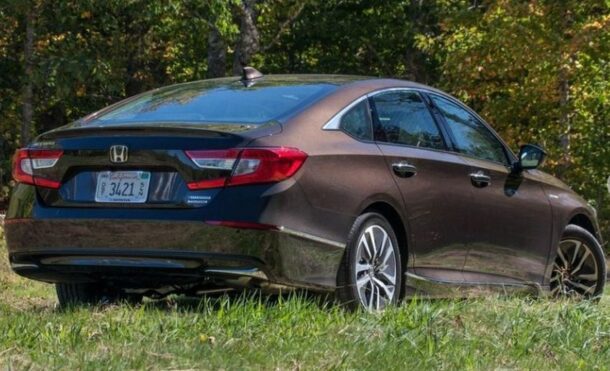 2018 HONDA ACCORD HYBRID MPG FIGURES AND OTHER SPECS
Before we just spill out those mpg figures for 2018 Honda Accord Hybrid, so highly appreciated in electrification realm, let's see with what else we are dealing here. The whole setup comes in form of 2.0-liter Atkinson-cycle capable L4, which is rated at 143 hp and 129 lb-ft of torque, and then paired with one AC motor which delivers 181 hp and 232 lb-ft, finally resulting in 212 hp. Transmission is none existed and battery pack comes in 1.3-kWh form. So, exactly as it was before to the very last figure and fact. Is there any progress then? Yes, there is. Lithium-ion battery stack is 32% smaller which gave an opportunity of slotting it under rear seats leaving boot intact, which wasn't the case with the predecessor. Now the hybrid model has whole 17 cu ft of available cargo space and rear seats are capable of falling down in 60/40 configuration.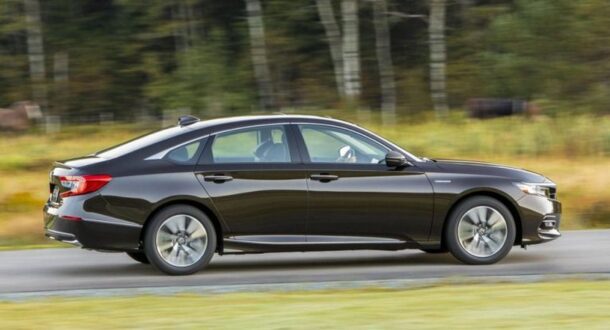 MOVING ON…
What's that? Oh, we forgot the mpg figures! EPA hasn't rated it yet, but we could expect one or two extra mpg from current 49 mpg city and 47 mpg highway. That would also mean that it will stay absolutely most frugal mid-size sedan in the class, beating electrified figures from Camry, Fusion, Sonata, Optima, and Malibu. 0-60 mph figures are also not disclosed yet, but giving that power numerals kept their past levels to the exact, it is not going to stray far from previous 7.2 seconds which is acceptable. What you are more interested in than acceleration time is surely regenerative braking, and yes, there is some of that here. The one-pedal drive isn't actually plausible but the force of regen, when dialed to the max, will keep you satisfied, especially when going downhill.
REST IS THE SAME AND VERY GOOD THAT IS
Upon choosing your new hybrid pet, certainly, you are not going to focus just on mpg figures? Right? If you do, then you might as well end up with Accord's keys, based on what you read above. Still, if you don't, again there is a high chance of those keys ending up in your pocket as rest of the stuff is very good. Accord became handsome. Very handsome. Fastback type of handsome and that is a good type of handsome to choose from. Visual athleticism can now rival that of Malibu's, which finally received a proper rival for that sleek figure. Internal affairs are no less impressing. The cabin met simplicity approach, which also brought before unknown elegance and feelings of sophistication, while last said is also enhanced by carefully chosen materials and good fit and finish. Finally, tech is satisfying with 7 or 8-inch touch screens supportive of Apple CarPlay and Android Auto, which is also enjoyable to use giving the existence of two knobs and eight hard buttons.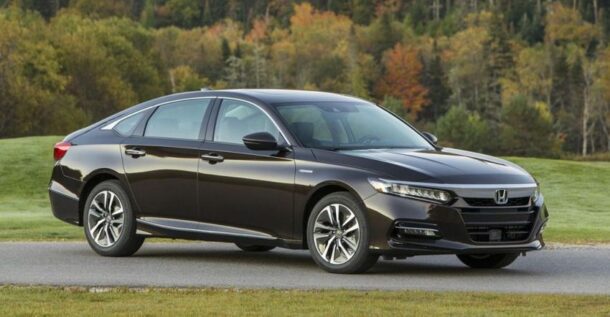 2018 HONDA ACCORD HYBRID RELEASE DATE AND PRICE
2018 Honda Accord Hybrid should arrive during this year while the price is going to see some change. Don't worry it's not steep rise in question. The new model should actually force starting price a bit down from current $29.6k since a new base trim is going to be offered, which should correspond to the one from the regular model. And that sums up this story. And no, this version of Accord is not bothersome deal. Japanese changed nothing under the hood because they simply didn't have to, it was already the best when "deadly" important mpg figures are concerned. All other novelties shared with petrol versions are just icing on the cake for all you "tree-huggers".
Written by Djordje (George) Mijatov ([email protected])