Today, most car owners will decorate their vehicles to express themselves. Regardless of whether it comes to preparing for a long road trip or celebrating the holiday, car decoration is the best way to feel good about your asset. Today, there are plenty of ways you can magnify the aesthetic appeal of your car. Especially when it comes to embellishing the exterior, there are hundreds of ideas out there. So now that people are interested in In-car decoration, they will not mind holding back from car modification because it is a great idea to make the vehicle glow in front of millions of people. If you have been looking for some creative ways to decorate your car's exterior, you've come to the right spot. Consider the following;
1. String of Letters
One of the easiest ways to make a car look amazing is to use a string of letters. They are inexpensive and easy to read. Furthermore, if you are a person who likes to express themselves in public as well, the string will help you in giving out a message to everyone around. Today, many people use the string to chant "Just Married" or the "Birthday Boy" to cheer for everyone in their hometown. The best thing about sharing the message is, it can easily be cleaned up as well.
2. Personalized stickers for cars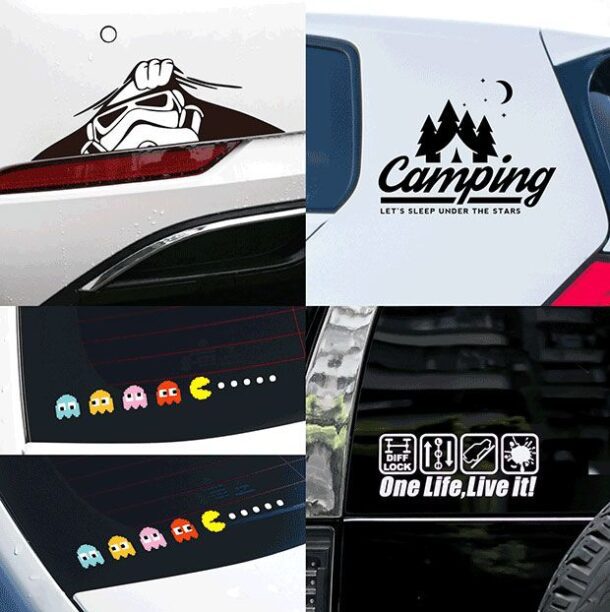 In addition, some personalized car stickers are also a great choice. The stickers are cheaper  than other personalized decorations (including but not limited to spoilers, surrounds, color  changes, wheel hubs, etc.). It is a lower cost solution to make your car be unique. These  custom-made stickers with your favorite pattern are waterproof and sun-resistant, and the color stays the same without fading. Get more info on www.Customsticker.com. The most  important is that they can be peeled off without leaving residue. While enjoying the fun of  stickers, you don't have to worry about the damage to your car. The low cost and easy-to use decals allow you to change freely, and keep receiving freshness bought from the new  stickers.
3. Have Fun with Lighting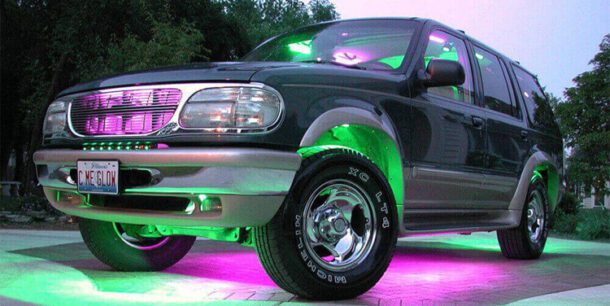 If you want to give some personality to your car, we recommend you play around with the lights. The lighting has the power to make your car stand out amongst the others. Regardless of whatever color scheme you settle for, you will always have the right lights around. Search for iilumo – Automotive Lighting Products and find the most amazing light fixtures on the web. For the exterior, you can settle for the LED lights because they are powerful and will make your car stand out without much effort.
4. Make the Most out of Your Trunk
Using a trunk is another exciting way to decorate the exterior of your car. The truck is a place that can be used for securing the decorations in place. This means you can tie all kinds of flags, streamers, posters, nylon ribbons, or any other item of decoration inside the car. However, it has to be gently held by the truck's door, otherwise, they will fall off. Make sure to sift through a few interesting ideas before you decide to have fun with the decorations in your car.
5. The Window Paint Should be Creative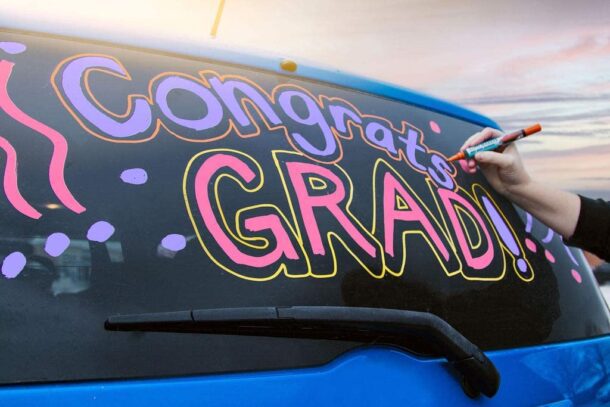 Another colorful way to embellish your car is to color the window with intriguing paint options. No matter how much you have planned to cheer for your team, announcing a sudden engagement party or a birthday with a colorful message will excite everyone. Be sure to purchase paint that can easily be taken off after a single wash. If you are repulsed from the paint's smell, we recommend you go with stickers. No wonder, they have the strength to add the same level of glamour to any vehicle.
6. Play with the Headlights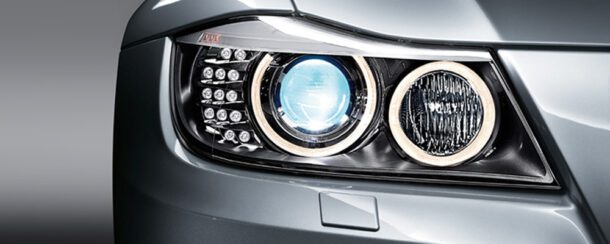 If you want to attribute your personality traits to your car, you could easily play around with the lighting. For this to happen, you need not spend a lot of money to make things work. You could use plastic or paper to form pupils. This way, you will have headlights that will look sharp. For example, if you're a Marvel fan and have a favorite hero, you could take inspiration from their mask and make it the face of your car. This way, you will have fun while embellishing your most valuable asset.
7. Go the Extra Mile with Pom Poms
Regardless of what they are made from, the pompoms will always prove themselves to be a colorful method to embellish your car. Today, people are using pom poms because they are versatile and can easily deck up the look of a vehicle. Especially if you want to mark a celebration or a special event, the pom poms on the car will help you out. Furthermore, you can also use masking tape or the traditional scotch tape to keep everything safe. Once applied to the windows, the pom-poms will easily make your car stand out.
8. Use a Net of Lights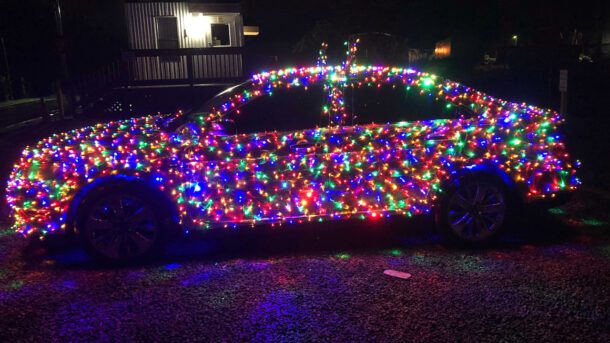 If you travel very often and take your car to various events, you must have thought about using a series of lights to breathe life into this idea. The net of lights will easily cover the entire exterior of your car. Especially if you want to make a statement for Christmas or any other special occasion, the net of lights will convey your message to the world. Today, the net of lights is available at an affordable cost and anyone can purchase it. Once you bring it home, the next step will be to use it in a way that gives a new look to your vehicle.
9. Stick to a Theme
Are you a fast and furious fan? If yes, you got a lot of ideas to decorate your car. Similarly, if you are a fan of any other movie or a special character, you can make it an inspiration for your car. For example, if you are a big fan of speed, you could get the yellow hot flames pasted on the car on all sides. Depending on what you like and what interests you, there will always be an idea out there for your car, make sure to present it in a way that it comes across as unique to the viewers.
10. Repaint it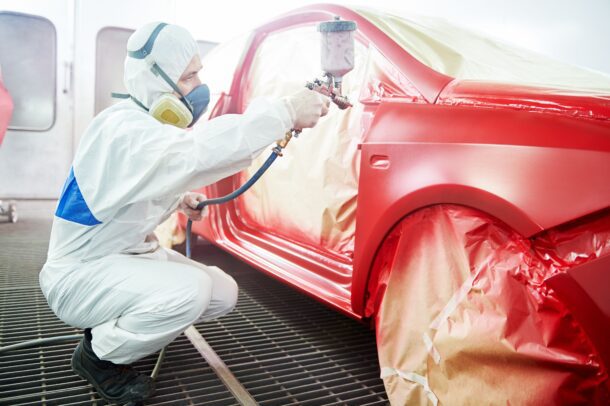 Are you tired of the conventional color of your car? Do you want to change its vibe for the good? We recommend you paint it a new color. These days, there are plenty of colors that are trending for cars such as pastel green, baby pink, shiny orange, golden, silver, dark purple, etc, however, you need to know that these colors are over the top. Still, if you want to make a statement and make your car stand out, you can choose any out of them.