When taking to the road on your motorcycle, wearing the right gear is crucial. Sometimes gloves can be forgotten about, but as it's instinctual to use your hands to break your fall in the case of an accident, protecting them should always be a high priority when buying a pair of motorcycle gloves.
But as well as protecting your hands from the risk of injury, you also need to protect them from the elements. And when the temperature starts to drop you might find that they need a little something extra to keep your hands warm.
What to consider with winter motorcycle gloves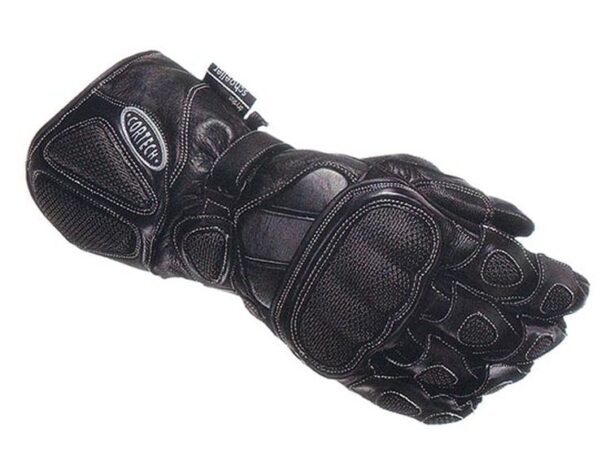 While you might already have a go-to pair of motorcycle gloves, it's important that you also have some that are suited to cold weather. Choosing a pair of the right ones for winter comes with a number of considerations: comfort, function, durability, protection, and of course, warmth.
When riding in a colder climate you want those that provide more padding and insulation to keep your hands warm. This may also determine the types of materials you choose, and what is more suitable to wear during winter.
Features such as high grip, waterproof and touchscreen capability are always good to have in a pair of motorcycle gloves, but come winter they'll become even more important.
With touchscreen capability you won't have to take them off to use your mobile phone or any other touchscreen device, which as well as being convenient means not having to expose your hands to the cold weather.
Motorcycle gloves that are waterproof and have high grip material are necessary if you are riding in the rain, both to keep your hands dry, but also ensure you are able to maintain control of your motorcycle and not have your hands slip off in the wet.
The fit is always important, you don't want them too tight or they will restrict movement, and if they're too loose they may move around. A snug fit is crucial for comfort and safety, and during winter, having the right fit will also help prevent cold air or rain getting in.
Different types also serve different purposes. If you're going on long trips or riding through colder climates, you will likely want a pair of heavy duty gloves with full finger coverage and added protection from the elements.
You want to make sure you are purchasing the best pair that you can for winter but the amount of choices can be overwhelming, so we've put together a list of the top 4 motorcycle gloves at Harley Heaven for the cold season.
1. Harley-Davidson Hazen Thinsulate Touchscreen Gloves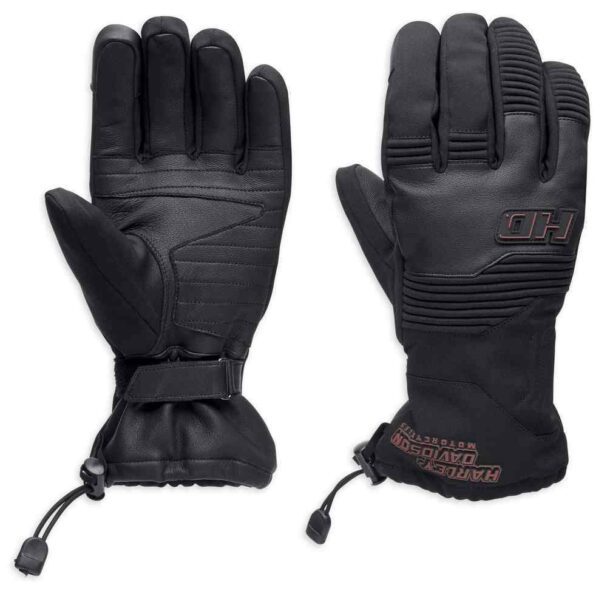 A pair of full finger motorcycle gloves featuring heavier insulation on the top, the Hazen Thinsulate Touchscreen gloves are one of the best pairs for winter.
Featuring 3M Thinsulate Insulation for added warmth and touchscreen capabilities, they offer the comfort and protection your hands need, making them a must-have for riding in winter conditions.
2. Harley-Davidson Circuit Waterproof Gauntlet Gloves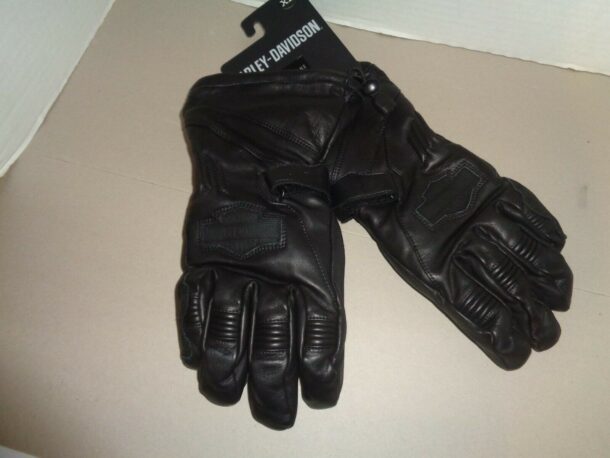 These are well suited to cold weather, as they sit higher on the wrist and allow you to be able to tuck your sleeves into them and wear your jacket sleeves over them, without any of your skin being exposed. With a wrist strap and a single-hand drawcord cuff closure, you will be able to adjust the fit of these Harley Davidson men's gloves, to ensure the perfect fit.
As the name suggests, the Circuit Waterproof Gauntlet gloves will also keep your hands dry during winter, while the insulated tricot lining will help to keep your hands comfortable and warm.
3. FXRG Dual-Camber Gauntlet Gloves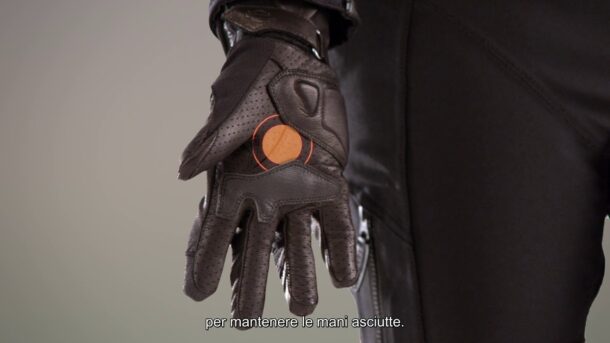 The innovative design of the FXRG® Dual-Chamber Gauntlet Gloves offers a warm, waterproof compartment as well as a venting chamber where perforated leather helps airflow and keeps you cool, making them ideal for winter as well as the other seasons.
With touchscreen capability, they allow the rider to use any touchscreen device like smartphones, GPS or tablets without taking your gloves off since they have thermal compounds and conductive threads on the fingertips.
4. Harley-Davidson Ratchett Gauntlet Leather Gloves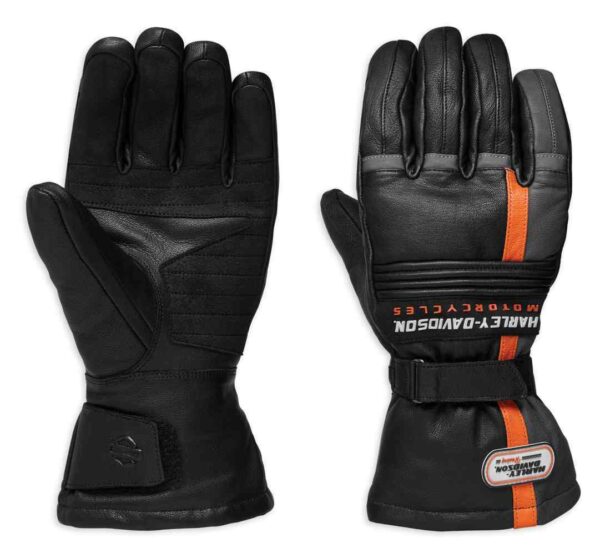 With 3M Thinsulate Insulation on the back of the hand for added warmth, the Ratchett Gauntlet Leather gloves are a popular choice for winter.
Featuring touchscreen capability, 3M Scotchlite Reflective Material knuckles and an elastic wrist with adjustable closure, these Harley Davidson men's gloves are well suited to the colder months.
Choosing the right motorcycle gloves for winter
There are numerous different styles of motorcycle gloves on the market, but it's important to choose a high quality pair that will provide the level of protection you need as well as comfort, especially if you'll be wearing them for long periods of time.
For winter you will be placing a higher priority on choosing a pair that will give you added warmth, which can mean paying close attention to each pair of motorcycle gloves' specific features and the materials and construction.
One pair does not necessarily serve every purpose, so you may find you need to have more than one set in your collection, to ensure you have a type to serve every situation and weather condition. Don't let cold hands stand in the way of going for a ride in winter!
For More Information about Motorcycle Gloves you can visit here.