Jeep Wrangler is an icon. An icon that enjoys incredible sales boosts since 2011, which led to a breach of 200k mark of sold units in 2015. If you have some serious off-road intentions within the mid-size frame, there is only one place to turn to. Actually, that is not true as Toyota offers similar (meaning ultimately) capable 4Runner, for a resembling pile of cash, while others are on the way (Defender, Bronco, FJ Cruiser…). Toyota's "pundit" also enjoys significant sales rise, annual numbers being half way there to Wrangler's, but still, each buyer going for it hasn't gone for the Jeep. So, you indeed see that this Jeep's fame and heritage pay dividends in charts numerals, but that doesn't change the fact that 4Runner is better handling on the road, more comfortable, incredibly more spacious, and more "lavish" on the inside (if we dare to mention that word on these premises). Plus, others are coming as we just said. So, let them all be tackled by soon to arrive brand new 2019 Jeep Wrangler, while eleven years old JK model takes some deserved rest.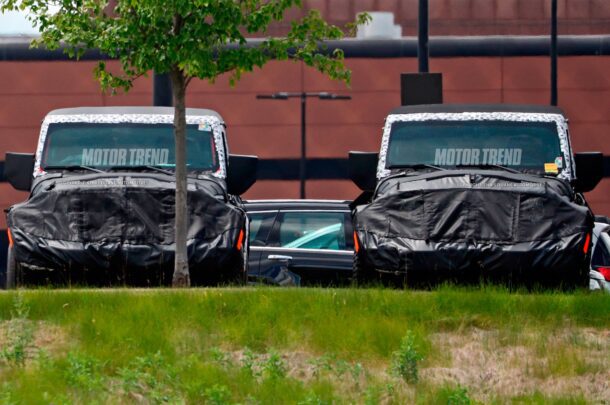 2019 Jeep Wrangler Changes
At the beginning test mules caught by spy photographers wore exceptional amount of cladding front and back, but the passage of time changed that, as later ones wearing very little camo suddenly surfaced. Grille still features seven openings, as it has always been from the ancient time of Willys, but it seems that it is getting bigger while sitting above the revised front bumper. The rear bumper is also updated and hood features some vents now. Body shape and side profile almost remained the same, but head lights received LED treatment, along with rear ones, giving it some neoteric vibe bundled with rugged (and very) old school overall design. You didn't expect from Jeep to radicalize its legendary shape? No, that would be sacrilegious and it would totally annihilate its special charm, so alluring to many.
But brand gave it a go with the cabin as spy shots openly reveal. The whole shape of the dash is incredibly modernized and it wouldn't look strange in a crossover. It seems that Jeep is about to go funky as well, as caught test mule had large red veneer across the dash, and lot's of chrome was used for encircling vents, buttons, and knobs. Very importantly tech side of it is about to experience meaningful boost also. Currently, the optional 6.5-inch infotainment system is small, slow and unintuitive, while we should welcome new sublime Uconnect 3.0 system displayed presumably on base 5 or optional 8.4-inch screen.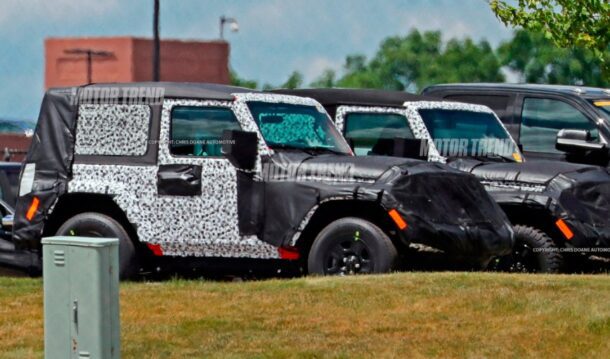 2019 Jeep Wrangler Engine
At this moment Wrangler is powered only by 3.6-liter V6 Pentastar engine rated at 285 hp, but new generation should bring a rise in power. Besides, that expect the introduction of turbocharged 2.0-liter L4 and even a 3.0-liter V6 turbodiesel. Hybrid is also in the cards, but the mild setup is expected to be employed in its case. As for gearboxes, the 6-speed manual should remain, but the 6-speed automatic will be replaced with 8-speed one. Sure it wouldn't be Wrangler anymore without a proper 4WD system with a transfer case, body on frame chassis, solid axles on all sides, lockers, and detachable sway bars, so it will have all those and according to rumors, certain version might feature full-time 4×4 system.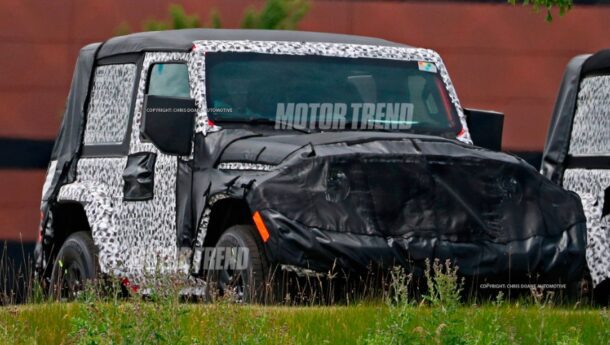 2019 Jeep Wrangler Release Date and Price
The debut of 2019 Jeep Wrangler is expected next month during LA Auto Show, while pricing should retain usual starting point of around $24k. Oh, God yes! And there will a pickup version, probably dubbed Scrambler honoring original one from 80's, while it should also represent the first pickup for the brand after the Comanche was axed in 1992.
Written by Djordje (George) Mijatov ([email protected])