Since the 2007 model year, the Jeep Wrangler didn't change almost at all, the current model being mostly identical to the 2007 model with only minor differences and new trim levels. Not too long ago Jeep presented a 5-year plan in which they tell us that they want to get a whole new roster of cars by the end of 2018 meaning that the Wrangler is finally going to be updated. However, unlike what mostly people think that this would be just a facelift, Chrysler announced that the 2017 Jeep Wrangler is going to be a brand new car that is not going to have too much in common with the ongoing model.

2017 Jeep Wrangler Changes
Changes are going to include a new design for the body and its interior, a new starting price as well as new engines. In fact, the new Wrangler could actually get a higher price than the ongoing model mostly because Jeep wants to add a new smaller model in their inventory, thus the Wrangler could start at over $26,000. The release date hasn't been released just yet but Jeep assured us that the next generation of the Wrangler is going to be ready for the 2017 model year, meaning a late 2016 release is highly possible.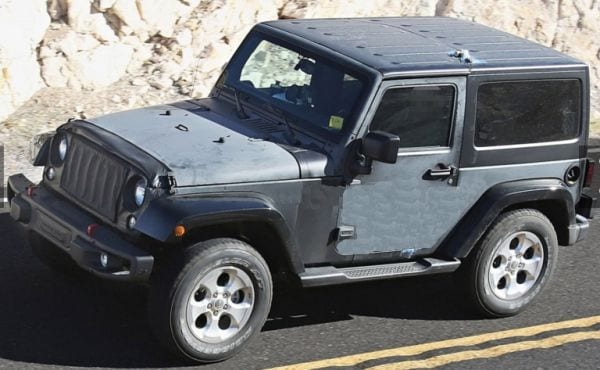 The features of the 2017 Jeep Wrangler are going to include a very similar construction to the current generation but its chassis should now be slightly stiffer as well as lighter. On top of that, this might very well be the first Chrysler product to get an all aluminum body which would lower the weight of the Wrangler as well as make it faster and more fuel efficient. However, this also comes with its drawbacks because it would make it quite a bit harder to repair than a conventional steel body. Its interior will also see a few upgrades such as water resistant dashboard and seats on the base model as well as new features such as standard heated seats and even a full touch screen for the infotainment system.
2017 Wrangler Engine
Engine wise, the 2017 Jeep Wrangler should be quite similar to the current model. However, there are likely going to be 2 new engines in its roster, a 3 liter turbocharged V6 diesel with 200 horsepower and more than 350 lb-ft of torque which is going to offer it the towing power as well as the fuel consumption demanded by the US customers as well as a new type of hybrid drivertrain which could pair a 3.2 liter Pentastar V6 with an electric motor, offering good low end torque thanks to that electric unit as well as good power from the V6 engine.