At the 2016 North American International Auto Show, Chevrolet has announced its new model for 2017 year, it is the 2017 Chevy Cruze Hatchback. This new Chevrolet model looks amazing. Let's take a look.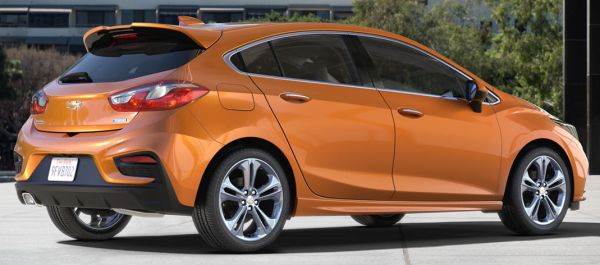 Exterior wise, the 2017 Chevy Cruze will come with one handsome design and this design will be one of the biggest trumps against its competitors. At the front, this model comes with similar look as the sedan. It comes with a sharp hood, a large grille and with sloped headlights which give to the car a little bit of an aggressive look. It has a prominent bodyline all the way from the front fenders to the rear glass, nicely emphasizing the model`s side profile and the rear end.
As it seems, the car will come in only two trim levels, LT and Premier trims. Chevrolet won't offer lower trim levels, L and LS, so this means that the hatchback will come only with up-scale equipment. Not so good news.
However, if you are one of the buyers who wants its new Cruze with a sporty feel, than you should know that the company will offer RS package in order to maintain your needs.

As for the interior, the new Chevrolet Cruze will have the same interior as in the Cruze sedan. This is actually good news, since this interior comes with some good improvements and updates. The cabin will be covered with soft-touch materials and at the back there will be a nice amount of legroom, which will provide a comfortable ride to the passengers. As for the rear cargo, this model will have 18.5 cubic feet of space and 42 cubic feet of space if the rear seats are folded flat. As it seems, with the new Chevy, there won't be a lack of space.
This new Chevy's model will come with a lot of great tech features. One of them is a seven-inch touch screen which will have the company's MyLink software.
The safety features in new 2017 Chevy Cruze will be: a rear park assist, lane keep assist, rear cross traffic alert and side blind zone alert.
Chevrolet Cruze Specifications
Under the hood of the 2017 Chevy Cruze will be a revised 1.4-liter turbocharged four-cylinder engine, which will be able to deliver 153 hp and 177 lb-ft. This engine is all made by aluminum and thanks to that, it reduced its weight. It will also bring 15 more hp and 28 pound-feet of torque compared with sedan. It will need 8 seconds to reach from 0 to 60 mph. The new Chevy Cruze will come with two transmission options, a six-speed manual and a six-speed automatic. Its top speed could be set at 125 mph.
So far, the company hasn't announced the 1.6-liter four-cylinder turbodiesel engine in this new model, but it could appear as an option.
https://www.youtube.com/watch?v=YXKCvePUKvk
2017 Chevy Cruze price and release date
The 2017 Chevrolet Cruze should go on sale in the fall of 2016. As for the price, the company hasn`t release the price for its new 2017 Chevrolet Cruze, but it can be expected that this new model will come with a little bit higher price compared with the 2016 Cruze sedan. Its start price could be somewhere around $22.500. Certainly, Chevrolet has to be careful and be aware that this model has rivals who can be cheaper than the Cruze. The main competitors will be: the Ford Focus Hatchback and the Hyndai Elantra.