The original Mazda CX-7 has been around between 2006 and 2012 but it has been discontinued simply because Mazda did not have a new platform to build a new model. However, they did surprise use when the Japanese manufacturer showcased at the Frankfurt Auto Show the 2016 Mazda Koeru concept car which is a medium size crossover expected to be released on the market as the CX-7. The car uses the same design scheme as all of their other models.
2016 Mazda Koeru Price And Release Date
This is great news because the KODO design language makes for some really interesting looking cars, the only drawback being the fact that it may not suit every car in their roster. However, the Koeru looks brilliant, offering the perfect balance between sporty appearance and conventional looks. It is unclear about when the model is actually going to be released but it seems that Mazda might start selling the car at the end of 2016. The price would likely be around $27,000 for the base car which is right in the middle of their current roster.
2016 Mazda Koeru Engine
Unfortunately though, Mazda did not say anything about the actual platform and powertrain of the upcoming car. However, it is safe to assume that the car will be using their modular platform as well as a few different engines to suit the different needs of the market. As standard it will likely be offered with a naturally aspirated 2.5 liter inline 4 with as much as 184 horsepower and 185 lb-ft of torque while a more powerful version is certainly going to be offered. This will likely make use of the same engine as the upcoming Mazda 3 MPS, a 2.5 liter turbocharged inline 4 that will offer with ease more than 250 horsepower. The car will be offered with front or all wheel drive and with a 6 speed manual or a 6 speed automatic.
Exterior of new Mazda Koeru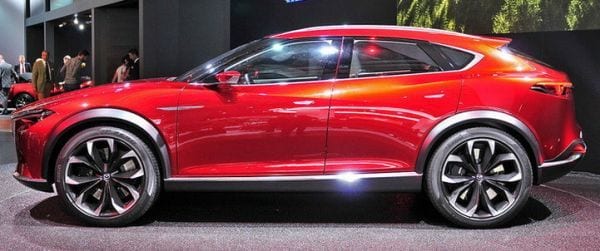 The exterior design of 2016 Mazda Koeru is the most impressive aspect about it so far. Just as we said, it closely follows current Mazda's design language with the trademark front grille but with two slimmer than usual headlights which give it a more aggressive look. It is also quite a bit lower than a usual crossover but the production model is likely going to keep only the shape. It will not get the 22 inch rims or the extremely flared wheel arches but it will surely get the sloped roof and the hot-hatch design of the rear end of the concept car.
Interior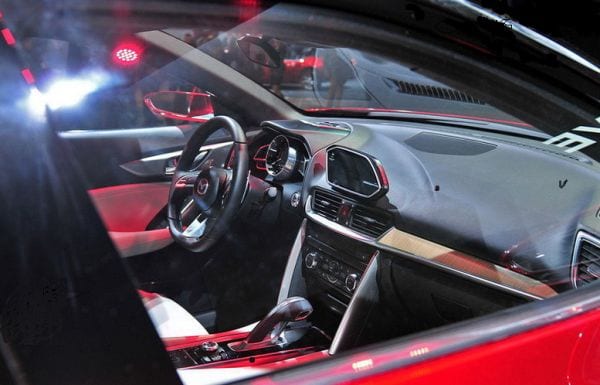 The interior of the 2016 Mazda Koeru is very similar to that of the production model Mazda 6 so it is safe to assume that the production CX-7 will be quite similar as well.
Read for more info: http://www.topspeed.com/cars/mazda/2016-mazda-koeru-ar170764.html